Society has led us to believe that to be a successful entrepreneur, you need to have it all figured out. In reality, this couldn't be further from the truth.
Feelings of self doubt are bound to creep in, but it's how you deal with them that leads to true success. So, we've shared practical strategies you can use to make sure you thrive in the first few weeks of running your business.
This article has been produced in partnership with Tide, who provide powerful and simple small business banking. Together, we're offering one lucky startup founder £5k and a package of mentoring support to help them start up – find out more and enter here.
Beat the fear of failure
In the first few busy weeks of running your startup, you might find yourself asking, "have I bitten off more than I can chew?".
When emails, orders, staff and investor calls rely on you, it's normal to feel this way. But how can you overcome that sense of overwhelm or worry that you're not up to the job?
Talk to someone
This one may seem obvious, but talking really does help. If your well-meaning family and friend's advice isn't quite cutting it, seek out other entrepreneurs in your position.
Remember, there is business support and numerous networking opportunities for startup founders online or in person, from The Pitch to UK Business Forums and Enterprise Nation.
Building up a network of other founders gives you the freedom to vent, pitch, share worries, successes and swap details to meet for those all important coffees.
Starting out can be an uphill struggle, but finding like-minded peers can help to alleviate the pressure, and open up space for advice to be shared.
Break it down
Fear of failure leads you to focus on the end result – but you're at the beginning of the journey. Take stock of where you are now. When you're building a business, no two weeks are the same.
If things aren't going according to plan one day, it doesn't mean this won't change. While forecasts are useful, try to stay present by taking things day by day or week by week.
For example, if you're noticing a need to increase your marketing efforts, manage your marketing step by step. If you've got three different marketing campaigns in mind, start by working on one, and monitor its success.
Startups often have small teams, and you may just be working on your own, so your projects need to start small too. Focus on pushing out one quality campaign first, before you tackle the rest.
Put funding fears to rest
Fear of failure is often born out of financial worry. Before you launch your business, you need to ensure you can fund its growth.
Decide whether you will bootstrap the business with your own cash, borrow money, apply for grants or a mix of those options. You might also want to look for an investor later in your journey.
There are many routes to follow, so don't be discouraged if you haven't secured the funds at the very start of your journey. Start small and nurture your income.
Looking for a grant to fund your business? We've partnered with Tide to offer £5,000 in funding and access to five fantastic mentors to support someone that's about to launch a business. Just click here to tell us what winning would mean to you.
You don't need lots of experience!
Research found that 30% of UK adults are considering starting a small business. Yet, many of us won't broach uncharted territory due to lack of experience.
This is a completely valid emotion and something we've all felt in one way or another. But keep in mind that you've broken through the consideration stage. You're taking active steps to making your ambitions a reality.
The key here is to avoid approaching this new venture with a negative or closed mindset due to feeling inexperienced. Instead, build on what you already have, and gradually learn the rest. You don't have to have it all figured out!
For example, if you're a coffee connoisseur set on running the new cafe, but lack customer-facing experience, use your passion for coffee as a building block in conversations with customers. You may not have served the general public before, but you've surely spoken at length to family and friends about your coffee creations.
Why not set up a demonstration area where you can show your skills and take questions? Or, for those eager to expand their service skills, find a local business for a week of work experience before you open your shop.
Similarly, if you've got customers in the palm of your hand, yet lack administrative know-how, use the attention to detail you employ taking orders to create a simple filing system.
Naivety can be a superpower when navigating a new enterprise because you have a different perspective to incumbents. Ensure you have the right people around you, whether that's mentors, team members or peers, and learn from one another as you go.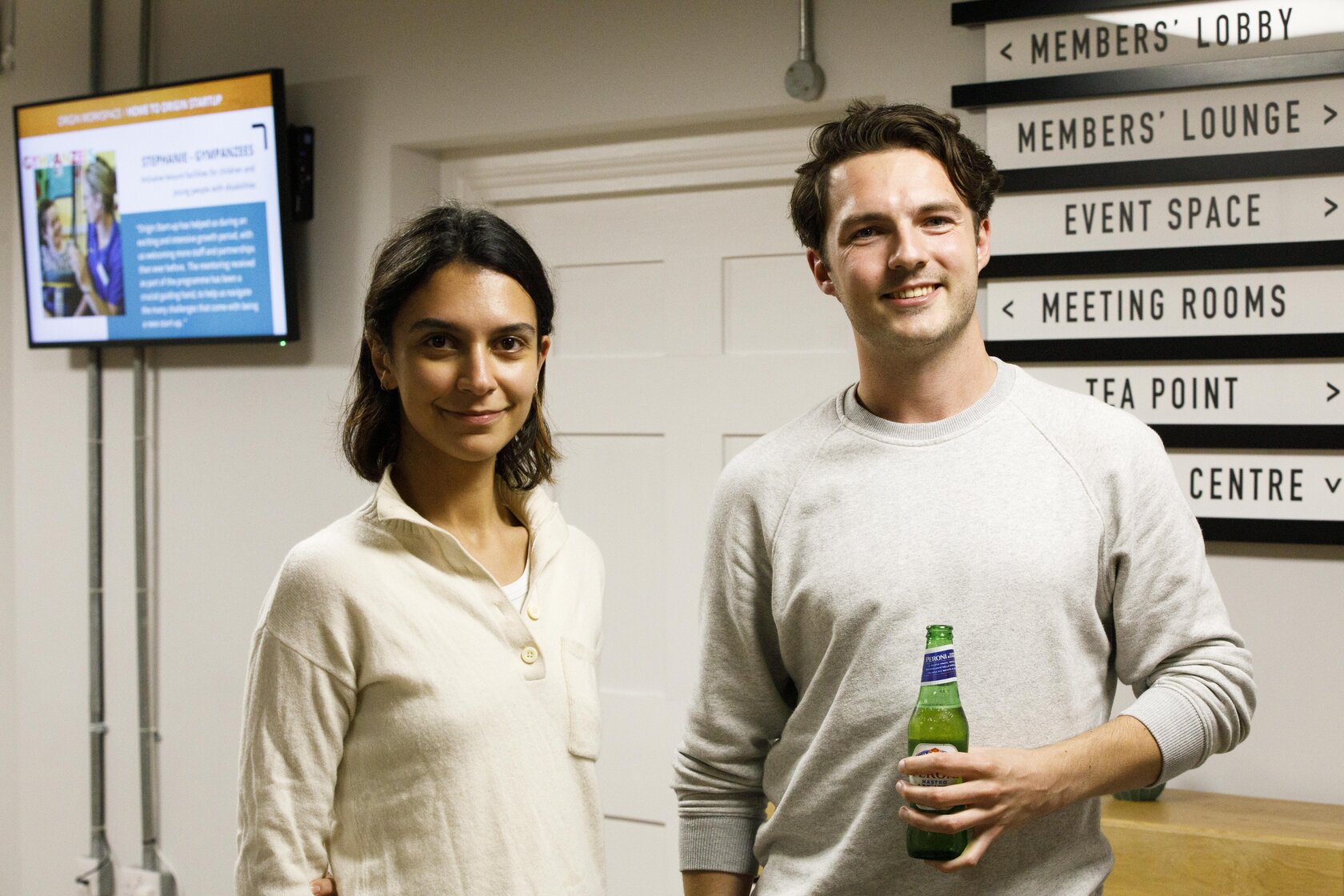 Overcome the overwhelm
Navigating the first few weeks of a new business can be overwhelming. Here are five practical tips if you start feeling like there aren't enough hours in the day.
1. Compartmentalise your to-do list
Your to-do list seems never ending and you're lacking a sense of achievement at the end of each day. Of course, any new business is going to have a large list of priorities and future plans, but the key to ticking off your tasks is to tackle them in chunks.
Look at your to-do list and section off the first five priorities for the week. If you haven't quite met your target, put the remaining tasks at the top of your list for the following week. You'll soon find out whether you're taking on too much work or you need to hire more people to help lighten the list.
Business plans are a great tool to reference when you're treading water in this way. Take your list of five priorities and cross reference them with your business plan. Are they helping you with where you need to be at this point in your growth journey? This exercise will keep you accountable and your eyes on the end goal, without getting sidetracked.
2. Colour code your calendar
As your business grows, your calendar will inevitably fill up. In order to avoid meeting overlaps or missed appointments, get your calendar in order.
Start by colour coding work-related appointments and reminders, and add your personal obligations. This compartmentalises your lifestyle and creates more harmony in your daily routine.
Using scheduling tools such as Calendly can help you to plan and organise meetings effectively, ensuring there are no dreaded overlaps.
3. Schedule weekly check-ins
Traditionally, one-to-one's are known to be best practice to keep track of the wellbeing of your team. But does anyone check in with you?
If you're a new business owner, start as you mean to go on. Schedule weekly check-ins, not only with your team, but with yourself. What worked for you this week? What do you need to change? How are you feeling about the progress of your enterprise?
Being a solo entrepreneur can be lonely, but try not to let this overshadow the joy of launching your new business. Create an open dialogue with friends, family, your team and yourself to combat your anxieties.
For more tips on how to tackle loneliness as a founder, read Tide's article on looking after your mental health.
4. Try to stick to set working hours
Last year, Startups.co.uk reported that small business owners worked an average of 50.5 hours per week as opposed to the national average of 37 hours.
Unfortunately, this working pattern is unsustainable. If you're going to drop this one-way ticket to burn out, you're going to have to be strict with yourself.
Adjusting to regular working patterns, leaving your laptop at the office at the end of each day, coming home, having quality headspace away from the business can give way to a host of healthy habits.
From having a clearer head for idea generation, to showing your employees how to have a balanced lifestyle, try introducing these steps and monitor your progress.
If you really feel you can't peel yourself away from work, why not replace your laptop with a notebook in the evenings? Have it sat at home ready to pick up when an idea springs to mind.
5. Expand your team and play to your strengths
Being the boss doesn't mean you have to shoulder the entirety of the business. You may have nurtured your enterprise to a prosperous position, so why not hire some like-minded employees to help share the load?
Allocating tasks to individuals with specified roles means you can focus on fine tuning other areas of the business that are yet to be tackled.
It's important to play to your strengths rather than trying to juggle everything at once. For example, if your strengths lie in marketing, but your financial planning is a mess, why not start using an accountant?
If you want to keep staff around long term, you'll want to create a welcoming, positive work environment. Communicate with your team if you're feeling overwhelmed and create space for them to do the same.
Enjoy the excitement
Whilst startup worries are inevitable, it's important to remember that launching a business is an exciting time for any entrepreneur.
Try to enjoy the experience as much as you can. The first few weeks will fly by, and you will likely look back on those first steps with fond memories one day.
Take your passion for the business and spread its mission far and wide. You may reach people you never imagined meeting.

Want to be in with a chance of winning £5,000 in funding and gain access to five mentors who are experts in their field? Head to Tide.ThePitch.uk to tell us about your business and why you should win!